With more and more couples choosing to ditch the traditional landscape of a "Wedding", and choosing to invest in an incredible elopement experience instead – the demand for luxurious getaways has never been higher!
I have compiled a list of some of Australias most breathtaking locations to say your "I Dos". In an attempt to prove to my fellow Aussies, that we truly do have some of the most diverse, and incredibly unique landscapes and locations right here in our own backyard! Check them out below!
Nikita Pere Photography respectfully acknowledges the Traditional Custodians of land throughout Australia. I acknowledge their deep spiritual connection to Country and community. I pay my respects to Elders of past and present and extend that respect to all Aboriginal and Torres Strait Islander peoples today.
1. Uluru & Longitude 131, Northern Territory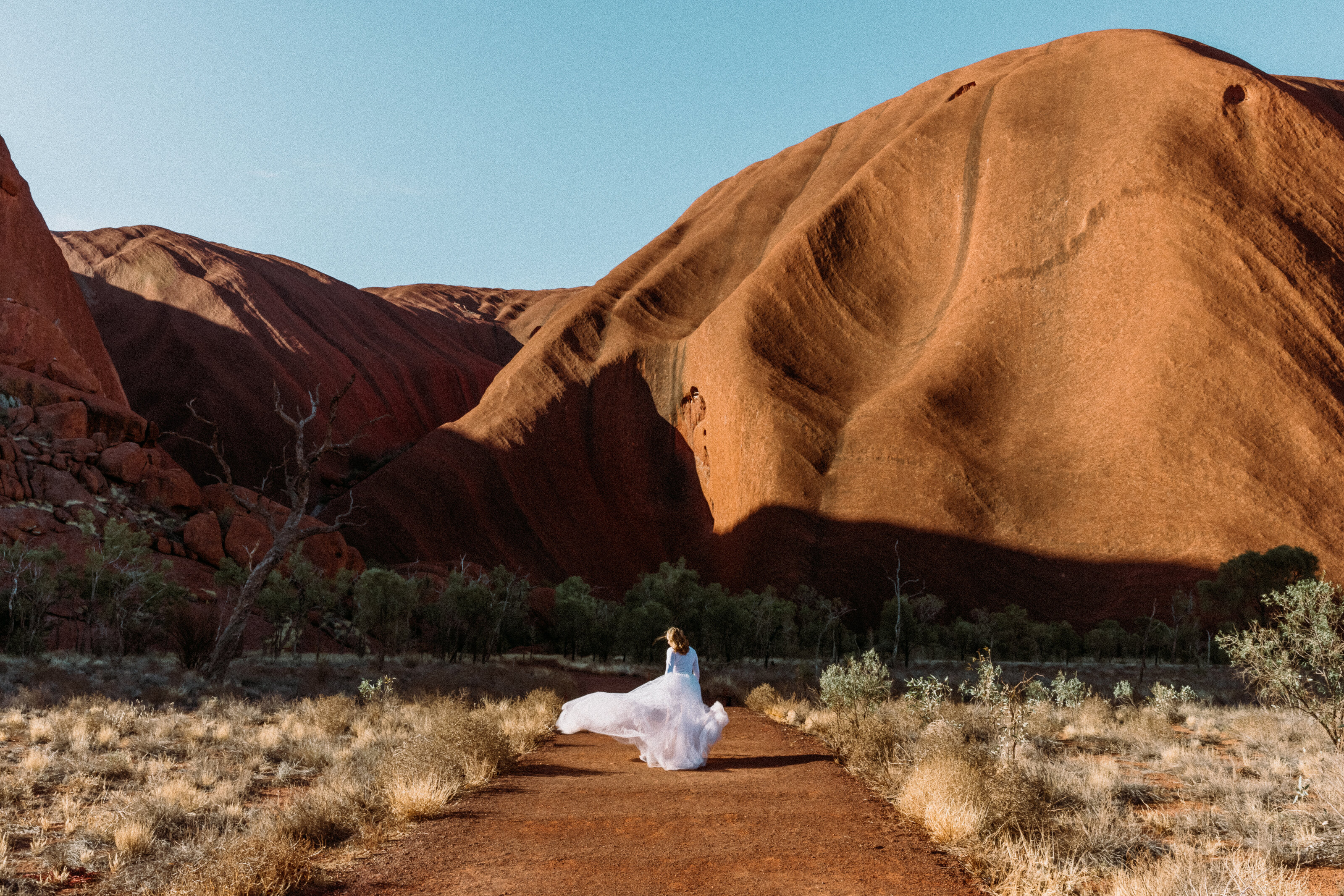 Australia's most famous landmark, and the spiritual heartland of this sunburnt country! While you are unable to get married within the Uluru-Kata Tjuta National Park itself (as it is a sacred site of the Anangu and wider Indigenous community), you can find a spot nearby and use Uluru itself as a dramatic background for your heartfelt nuptials.
If you're feeling extra boujee, then book in a stay at Longitude 131 for a truly remarkable, unique, and memorable experience you will remember for a lifetime!
With views direct to Uluru and across the desert to Kata Tjuta, Longitude 131˚ is Australia's most celebrated luxury camp. Dotted among the red-rust dunes of the Central Desert are sixteen tented pavilions, each offering connection with the outback landscape and its heritage as well as a glamorous base from which to explore the incredible Red Centre. Discover vibrant Aboriginal artworks alongside relics from the region's explorers, a bar and restaurant offering contemporary Australian dining and friendly staff ready to share a yarn.

Longitude 131
Please respect culturally sensitive sites, and head to Parks Australia to familiarise yourself with Photography/Videography protocols and permits required within Uluru & Kata Tjuta sites.
2. Spicers Sangoma, The Blue Mountains, New South Wales
The Blue Mountains has seen a massive growth in popularity for Australian Elopements in recent years, and for good reason! The landscape is just spectacular! Although the area was hit pretty hard during the 2019 Australian Bushfires, it is slowly coming back to life. And there is also something very hauntingly beautiful about the remnants of the charred landscape among the new growth shoots!
Do yourself a favour and check out Spicers Sangoma Retreat for a peaceful, intimate stay nestled among the natural serenity of The Blue Mountains.
3. One & Only, Wolgan Valley, New South Wales
Just down the road from our previous location and nestled quietly among the Greater Blue Mountains, Emirates One & Only Wolgan Valley is a luxury resort that overlooks this stunning Australian landscape. With plenty of unique experiences being offered, such as the spa & wellness centres, horse-riding & stables, and unique dining experiences; you're sure to find a way to relax and enjoy your time here. Each villa is also equipped with its own private pool, with scenic views as far as the eye can see! How romantic!
There is also plenty of space around the property to wander, and capture your stunning Elopement and Wedding portraits that will be sure to drop jaws when you share them with your family and friends!
4. Capella Lodge, Lord Howe Island
Just a hop, skip, and jump away from mainland Australia – you will find this untouched paradise, Lord Howe Island. This remote paradise is home to giant mountain peaks & sub-tropical rainforests, and surrounded by super clear, coral-rich waters. A nature lovers dream!
Capella Lodge is a sophisticated escape, that takes in the intimate surrounds to deliver a unique Lord Howe Island experience.
5. Qualia, Whitsundays, Queensland
Qualia is an adult-only, private luxury estate nestled amongst postcard views of the Whitsundays. It has long been crowned one of Queenslands most serene and beautiful escapes, and is the epitome of "spoil yourself".
Each villa comes with your own private golf-buggy (the only way to get around Hamilton Island), and the spa is a MUST-DO while you are there. Read more from our stay HERE
qualia is the sensory experience of absolute relaxation. Distinctively Australian and international in understated style and luxury, qualia's elegant private pavilions capture the Whitsundays beauty of a blue horizon edged with islands.

Qualia
Famously known for this epic wedding of Deborah Symond and now husband Ned O'Neil. Captured by the incredible Alice Mahran.
6. Satellite Island, Tasmania
When it comes to unique venues, this would have to take the cake! Satellite Island is a magical island off the coast of Tasmania. You get exclusive use of this entire island for the duration of your stay, with the main house, the boat house, and a bell tent at your disposal!
If you're looking for a truly remote, one-of-a-kind Elopement experience, this is your ticket! Exchange your vows overlooking incredible views of the D'Entrecasteaux Channel, and retreat to the warmth of a crackling bonfire as you feast on some freshly shucked oysters from the island. A perfect way to escape from it all, in your own little love bubble!
7. Thalia Haven, Swansea, Tasmania
Now of course I had to include Thalia Haven in this list. I couldn't have gotten through an enitre "Best Places" list without the location of my own Elopement.
Thalia Haven is set on a private 130-acre wooded peninsula surrounded by the crystal-blue waters of renowned Great Oyster Bay. Experience Tasmania's wild East Coast from a unique perspective. Five kilometres of secluded coastline including your own exclusive golden-sand beach. Accommodation is in four ancient-stone bedrooms clustered around olive-tree courtyards on the ocean's edge. The residence is a bold yet congenial showcase of self reliance: your water, electricity, and warmth are drawn from its land, breezes, and sunshine. Rustic, yes, but fear not: all the comforts you will need to relax, enjoy, and explore are at hand. Just an hour from Hobart airport.
8. Great Ocean Road, Victoria
There's a reason this 243-kilometre stretch of road is one of the most iconic coastal drives in the world. Famously known for home of the 12 Apostles, iconic surf breaks and breathtaking waterfalls – there's no shortage of breathtaking locations to choose from for your intimate nuptials. Read more from this Great Ocean Road Elopement.
The weather along here can be very unforgiving, so make sure you have yourself an indoors Plan B, like this epic luxury home stay 1200 GOR.
9. Sal Salis, Ningaloo Reef, Western Australia
Fringed by coruscating coral and lapped by the lusciously warm waters of the Indian Ocean, Sal Salis is a remote, beachside bush camp nestled snugly in the dunes of the Cape Range National Park near Ningaloo Reef. Sleep under canvas, dine under the stars and spend long, wonder-filled days underwater mingling with the manta rays, whale sharks and sparkling shoals of fish that also call this remarkable place home.
And if you need a hand planning a spectacular Elopement here, the team over at Elope to Ningaloo have got you covered!
10. Southern Ocean Lodge, Kangaroo Island, South Australia
I debated on whether or not to include this one, as it was recently destroyed in the Australian Bushfires along with a devastating loss to the entire Kangaroo Island wildlife population as a whole. However, whilst the lodge may not be currently standing as I write this (June 2020), I know they will rebuild to be better than ever – which, I mean, is that even possible? It was seriously one of the most spectacular luxury accomodation locations in the whole of Australia. Not only that, Kangaroo Island needs all the support it can get right now, so if that is something important to you, you might like to consider keeping this one in mind!
The owners of Southern Ocean Lodge, Baillie Lodges' James and Hayley Baillie, have vowed to resurrect the retreat within two years.
Globally celebrated and multi-award winning, Southern Ocean Lodge on Kangaroo Island is Australia's most acclaimed wilderness lodge. Sensitively designed to blend seamlessly with the wildly beautiful landscape, Southern Ocean Lodge appears to float along its secluded clifftop setting.

Southern Ocean Lodge
So there it is, an extensive list of the most luxurious destinations around Australia to tie the knot! Let me know in the comments below which location from this list was your favourite!
If you're feeling inspired to elope in luxury and style, I hope this list has given you some great ideas! These are just a snapshot of what Australia has on offer for couples looking to celebrating their love in the most beautiful way possible. And if you'd like help planning your luxurious Elopement adventure anywhere in Australia – I would be honoured to capture this special season of your journey together.
---
not just a photographer..
When you book an elopement experience with me, I become your Wedding Siri! Your pocket wedding guide, your photographer, your friend, your makeup-artist, your hairstylist (yep – I'm a Professional HMUA of over 10yrs!), and the one to whip you up a whisky sour to ease those nerves. I'm your whole team (apart from the celebrant – but I can hook you up with those, too!) all rolled in to one. So let's do this!
are you looking for a unique elopement experience? get in touch to start planning your best day ever
---
other posts you might be interested in..