Are you dreaming of the most breathtaking Tasmania Elopement or small Wedding with the ones that you love? I don't blame you! In case you haven't yet experienced the pleasure of me flogging off my own elopement any chance I get, I highly recommend you check it out HERE – no seriously, it was pretty dang cool.
Tasmania is Australias best kept secret (well, it's not exactly a secret, but I'm always so surprised at the number of Aussies who have never visited this jaw-dropping state!) with its spectacular landscapes, rugged highlands, solitary beaches and wild alpine areas – there's so much to explore. It's no wonder that more and more people are jetting off down south to Tassie to elope or get hitched with Mother Nature as the perfect backdrop.
BEST TASMANIA ELOPEMENT LOCATIONS
With so many different locations and backdrops to consider: from coastal, to ancient rainforests, to rocky alpines, to unique Airbnbs overlooking the most stunning coastlines in Australia – I've compiled a list of some of my favourite locations to elope in Tasmania.

THALIA HAVEN, SWANSEA
Did I really just start this location list off with my own Elopement location? YUP. Did I also only choose this location because of the epic bathtub overlooking Great Oyster Bay? ALSO YUP!
Thalia Haven is a remote, wild and off-the-grid stone house set on a private 130-acre wooded peninsula surrounded by the crystal-blue waters of renowned Great Oyster Bay. The residence is a bold yet congenial showcase of self reliance: your water, electricity, and warmth are drawn from its land, breezes, and sunshine. Rustic, yes, but fear not: all the comforts you will need to relax, enjoy, and explore are at hand. An easy drive from Tasmania's main airports.
BRUNY ISLAND
Tasmania is an island, surrounded by lots of tiny little islands, and there's no arguing that Bruny Island is Tassie's #1 PREMIERE island destination. To get there, its a short 35 minute drive South of Hobart, jump on the ferry at Kettering, and in 20 minutes you're driving off the boat and adventuring what feels like such a remote and isolated part of the world! One of my favourite spots in Tassie!
Bruny Island is home to fur seals, fairy penguins, albatross, wedge tailed eagles, white wallabies and many endemic species. In addition to stunning scenery, Bruny Island is a foodies paradise. Hunt and gather the islands' delicious local produce at the farmgate and cellar doors. The island showcases a variety of artisan cheese, oysters, seafood, berries, fudge, wine, whisky, gin, beer and a selection of cafes and restaurants.
SATELLITE ISLAND
Just off the coast of Brunt island in the heart of the magnificent D'Entrecasteaux Channel is yet another remote, private called Satellite Island. Sheer sea cliffs fall away to pristine water and wild shellfish can be found in the ancient rock shelf that circles the Island. A pair of rare white breasted sea eagles who live on the Island can be seen soaring high above the huge blue gums, whilst quail and native wildlife forage below.
Satellite Island is truly a unique destination. Not the easiest location to get to, but worth it for your own private slice of paradise that allows you to let the whole world just gently fall away.
CRADLE MOUNTAIN NATIONAL PARK & LAKE ST CLAIR
One of the more popular elopement locations, Cradle Mountain is synonymous with nature, wilderness and all things pristine. Wildlife is in abundance in this spectacular national park, giving opportunity to encounter Tasmanian devils, quolls, platypus, echidna, wombats and the highly inquisitive black currawong.
A place for all seasons, discover deep snowdrifts in winter, spectacular displays of yellows, oranges and reds across the mountain slopes in autumn as Tasmania's deciduous Fagus turns colour, playful young joeys & hungry echidnas emerging in spring, and the fragrance of wildflowers filling the air as you dip your toe into a crystal-clear lake on a summer's day
Stop in at Tasmanias newest adults-only wilderness retreat Pumphouse Point for a truly memorable experience.
KUNANYI (MOUNT WELLINGTON)
If you've ever explored Hobart, you can see this majestic giant peeking out from behind the city in all of its glory. It's only a 20min drive from the city centre, and it truly is amazing at just how drastic the landscape changes just in the short drive up the mountain.
FLINDER'S ISLAND
Are you ready to get away from it all and experience the adventure of a lifetime? When you set foot on Flinders Island you step into an awe-inspiring world of sparkling beaches, rugged ranges, abundant wildlife, flora and clear sapphire waters. Discover the jagged mountains that jut from the wild ocean like giant sea creatures proudly presenting their bounty to all and sundry. These remarkable 'mountains in the sea' offer a rare experience you won't find anywhere else on earth.
BAY OF FIRES
Here you will find find the iconic white sand beaches, crystal blue water and the orange hued granite boulders the Bay of Fires is so famously known for.
Spend the night at The Bay of Fires Bush Retreat you can cosy up around the open fire with a glass of perfectly spiced mulled wine or steaming mug of hot chocolate and relax into the night. When the time comes to retreat back to your Bell Tent, you'll find a cosy haven equipped with a deluxe King bed, heaters, electric blankets, woollen throws and hot water bottles for a night nestled under the covers with that book you never got around to finishing.
FREYCINET NATIONAL PARK
Explore a peninsula of pink granite mountains on Tasmania's east coast, Freycinet National Park – a place of wild beauty. Towering pink-hued mountains, known as the Hazards, shadow the landscape, and at their foot are the calm, blue waters of Wineglass Bay. Coastal forests beckon keen hikers, while gourmands delight in local seafood and cool climate wines. A must-do for the avid nature-lovers!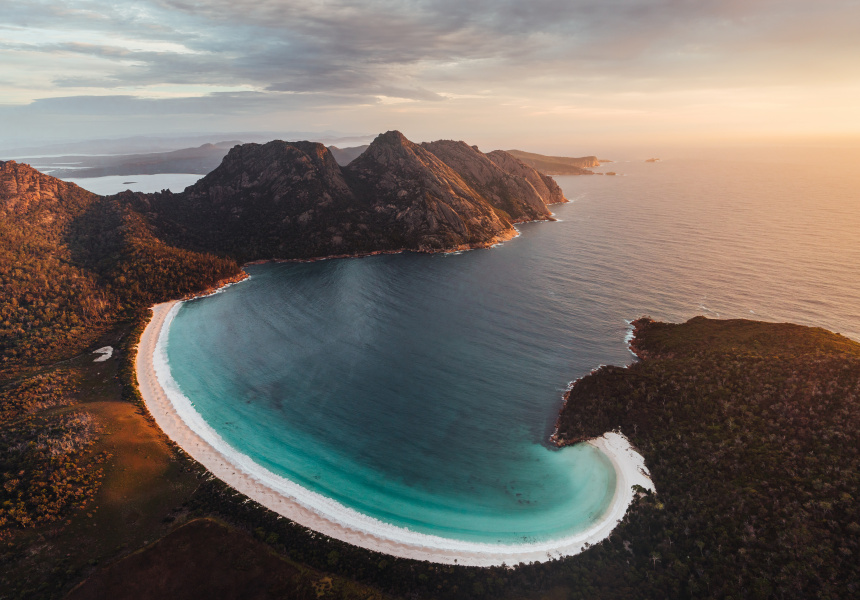 BEN LOMOND
The magnificent mountain of Ben Lomond is dominated by an alpine plateau over 1500 metres high and surrounded on all sides by precipitous escarpments. It's also the main destination for downhill skiing in Tasmania. Its stark, treeless landscape is visible from much of Tasmania's north and the road to the top, known as Jacob's Ladder, is sure to leave a lasting memory.
BEST TIME TO VISIT TASMANIA
Tasmania is beautiful ALL YEAR ROUND, and honestly it depends what your preference of season is. Most people tend to visit during Summer (Dec-Feb) so if you want to avoid peak season crowds, pick another time of year. Some people hate the cold, but me I LOVE IT, but I also knew that I wanted those stunning rusty tones that paint the landscape in Autumn (Mar-May). So we planned our elopement for the end of May because its still Autumn (honestly I think this is the prettiest time of year!), but slowly coming in to Winter so we could rug up and drink wine by the fire!
The words "Winter in Tasmania" makes most Aussies want to shrivel up in to a miserable ball and die (bit dramatic, but often true), but Winter (Jun-Aug) in Tassie is an ethereal wonderland to behold! Rainfall is highest during Winter but don't let that deter you from experiencing the dancing waterfalls, and moody mountain peaks as the mist rolls through those luscious ancient rainforests below.
But if you're into lush green landscapes, and flora all the colours of the rainbow, then Spring (Sep-Nov) is the perfect time to frolic in the wildflowers. No matter what time of year you visit, you will be greeted by incredible landscapes that change with every season.
HOW TO GET TO TASMANIA
Being the only island state in Australia, you can only get to Tasmania by air or sea.
AIR: Regular flights depart all major cities and fly directly in to Hobart (the "main" destination) or Launceston (second most popular city, located in the North).
SEA: Alternatively, if you're keen on a roady by sea, The Spirit of Tasmania is a ferry that departs Melbourne and arrives in Devonport and has both walk-on and drive-on options.
TASMANIA ELOPEMENT ADVICE
EXPLORE Tassie for a few days if you don't have an exact location in mind. Have a think about locations that you're both naturally drawn to and go from there. For example: if you both hate sand, but are still drawn to coastal backdrops than go explore the Bay of Fires region for those epic fiery orange boulders along the coastline so you don't spend your entire ceremony cringing about the sand between your toes 😅
PLAN ahead and have a backup plan juuust in case. They don't say that Tassie is "4 seasons in one day" for nothing!
WEAR comfortable shoes if you're going to be traversing landscapes, and don't forget to pack a coat (something warm AND cute, of course!)
BOOK your vendors ahead of time if possible. I genuinely think that Tasmania has some of the best wedding vendors in Australia (they just got some epic creative juices flowing down there), and with it becoming a more popular location for people to get hitched, they do book out in advance. Make sure to book your fav vendors as soon as possible.
JUST ENJOY THE RIDE! Tasmania has SO MUCH to offer in terms of cute stays, great food, incredible wine and vast landscapes. Just go bask in all that goodness, and you will be totally fine!
TASMANIA ELOPEMENT PACKAGES
Ready to explore the beauty of the ever-changing landscapes of Tasmania? Here are some of my Elopement Photography packages with everything you need to be legally married!

All-Inclusive Elopement Package:
👉 Full Day (10hrs) Photography
👉 Comprehensive Planning Assistance
👉 Celebrant
👉 Bridal Hair & Makeup
👉 All of your digitally-retouched high-resolution images
👉 Travel fees included!
$10,099.00 AUD
This is by no means an exhaustive list of your locations, options and activities for a Tasmanian elopement, but hopefully they're enough to get you started in planning a an epic experience to mark this special time in your lives! Remember, with an elopement, there are no rules! You can whisk your immediate family members away to sip wine for a week on the East Coast, or you can find a super secret location for just the two of you to share your nuptials with one another. Whatever you choose, make sure it feels good in your soul bones!