Welcome, beautiful brides-to-be, who dance to the rhythm of your own hearts and embrace the path less traveled! When it comes to choosing the attire for your special day, the journey might seem overwhelming, but fear not, for you are not alone in this quest for a non-traditional wedding gown that truly speaks to your soul.
In my world, I have the honour of working with couples who defy convention and seek a wedding experience that transcends the ordinary. Yours is a love that knows no boundaries, steeped in spirituality, culture, or unique beliefs, and yearning for a sacred and intimate celebration like no other. Together, we embark on a magical journey to create an experience that embodies your traditions, values, and individuality. Whether you envision yourself as a bohemian bride, twirling in a flowy maxi dress, or a spiritual bride, adorned with elements that connect you to the universe, or perhaps a cultural bride, dressed in the beauty of your heritage, there is no right or wrong way to honor your essence on this special day.
Amidst the flurry of expectations, remember that your wedding day is an ode to the love you share and the journey you've embarked on together. Embrace your uniqueness, for it is a gift to cherish. Cast aside the pressures of conforming to traditional dress codes and let your soul guide you towards an ensemble that sings your song of love.
Infuse your attire with soulful meaning by incorporating precious details that hold significance. Wear a family heirloom that has journeyed through generations, infuse your ensemble with embroidery, beading, or weaving that pays homage to your cultural roots – every stitch narrating a tale of your heritage and identity.
Here are some of my favourite non-traditional wedding gowns and outfits for your special day!
Ani Gown by Nicole Milano
If you're looking to wow down the aisle, look no further than this incredible carmine red tulle gown by Nicole Milano. The textured tulle ruffles create a light volume on the skirt and the sleeveless bodice, while the high waistline enhances the waist. This beautiful gown is also available to order in Ivory, but we have to admit to being head over heels in love with the red.
Featured here in our Native Bride shoot (gown supplied by White Lily Couture)
Dawn Amber by Rue De Seine
Dawn Amber will transport you to a mountain-top sunrise. Featuring a Rue De Seine exclusive lace and is adorned in pearlescent beads to form a breath-taking silhouette. Her skirt and train open to large florals with bold curved trims that evoke nature's calm, while beautifully balanced cut-outs of transparent mesh breathe a sense of freedom. Transform your gown by styling the rouleau straps as a crossed-over halter or in a soft V-neckline for a timeless look.
Counting Stars by Boom Blush
Totally out of the ordinary! The Counting Stars gown is made for the woman who radiates beauty from within and insists on following her dreams, this irresistible bohemian gown will have you shining on your special day. Crafted from our signature custom made lace embellished with thousands of reflective stars, the heavenly limited edition fabric illuminates the gorgeous bride while still allowing her to move freely. The luminous stars shimmer in the light to emit an ethereal beauty that will take your breath away in the evening light of a magical sunset.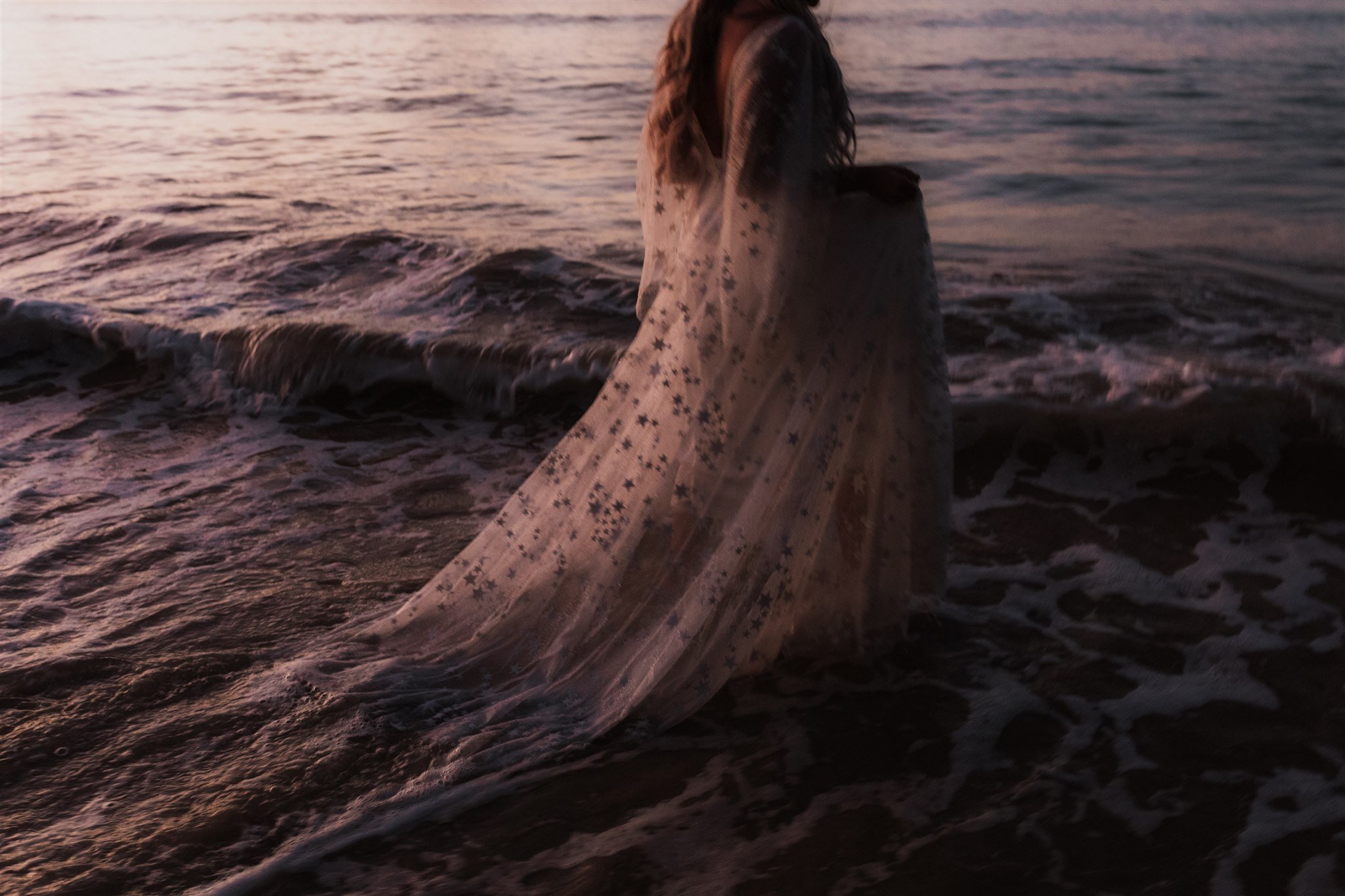 ALSO available in the Ash Counting Stars dress with a black slip dress underneath for those wanting an edgy flair!
Shadow Gown by Ritual Unions
The Shadow Gown is a made-to-order gown for the bold bride. This ethereal tulle ballgown is not for the faint of heart, and perfect for those looking for an absolute show-stopper!
Le Wild Rose by Hera Couture
Le Wild Rose (Green Pistachio) is perfect for the alternative princess. Layers of floating tulle bring a softness and grace, while a stunning rose printed fabric is embellished with beads and sequins for an unforgettable vintage look. Crafted in three colours; pink, dusky blue or dusky green, Le Wild Rose is unique and stylish. The hand ruched bodice is strapless and is finished with a pearl closure, while statement detachable sleeves can be cuffed with pearls or a simple tie for a more billowing, romantic feel.
Also available in Dusky Blue & Lavender
Joaquin by Daughters of Simone
Joaquin is an unmistakably 70's classic, with a youthful twist. This daringly different two-piece gown is not for the faint of heart. Relaxed all silk gown offers an adjustable top with dramatic long ties which wrap in front creating a beautifully framed décolletage. High waist skirt sits proportionately forming a focus on the upper waist for flattering appeal. Form fitting skirt flows into a dreamy train. Vintage inspired floral printed silk gown.
Davey Pants by Chosen (Kyha)
Not feeling a gown for your special day? Channel high-octane energy with the Davey Pant. Crafted from bespoke lineal beading, the Davey pant features a low rise waist with beaded fringe details from the knee to hem. Pair with the Davey Bodice for a scene-stealing second look.
Bespoke Genderless Suits by Reigner Clothing
Still not finding the gown of your wedding-day dreams? Check out these stunning custom detailing suits by Reigner Clothing. Sure to make you stand out from the crowd!
Mountain Song Veil by Rue De Seine
Not technically a gown or an outfit, but absolutely worthy of a noteable mention! The dreamy Mountain Song Veil by Rue De Seine is sure to elevate ANY wedding day outfit and make you feel like a Bohemian Queen!
And there we have it, my non-exhaustive list featuring some of my favourite non-traditional wedding outfits to get you started on your journey!
Let the world witness the magic that unfolds when you honor your individuality, unapologetically embracing every facet of your being. You are a radiant star, and your wedding gown should be a reflection of the light you bring into this world!
---
Looking for the perfect Elopement experience that aligns with the both of you?
Get excited about wedding planning again! In the sacred journey of love, you deserve a wedding experience that is filled with genuine intention and purpose, perfectly aligned with your hearts.
Beyond just photographs, I am here to help you reimagine your most sacred day with a meaningful marriage experience that touches the deepest parts of your souls.
---
Check out whats on the Blog
How does skipping the whole politics of planning a big wedding, and grabbing your nearest and dearest to witness your "I-Dos" in a cliff-top nuptial overlooking the stunning Lake Wanaka sound? Well that's exactly what Alex & James did! They planned an epic Queenstown Elopement when they decided that they wanted their immediate family members…

We often focus on the beginnings; the first date, the first kiss, and the day you promise forever to each other. But what about the stories that come after "I do"? Here's why you should consider a vow renewal

Cultural Wedding Photography: Let us embark on a soul-stirring journey to recolonize the wedding industry. A journey that calls upon every heart to honour their heritage and embrace the profound beauty of our diverse cultural backgrounds on their sacred day.